Are you thinking about moving to Montrose, Colorado? We have a lot to offer in a relatively small town! Montrose has all the amenities you need with great views and easy access to the outdoors. From young professionals to people with families and even retirees, Montrose is gaining popularity and is being discovered by many as a great place to live!
Big town amenities with a small town feel
With a population right around 19,000, everything that Montrose has might surprise you! If you're considering moving to Montrose, you'll be happy to hear it has all the stores, restaurants, and other amenities you need. And you don't have to deal with the long commutes and distances between places as you would with a larger city. You can get to most anywhere within Montrose in about 1o-15 minutes. The newer Montrose Community Recreation Center is the largest on the western slope. It is complete with a full gym, track, multiple pool areas, a climbing wall, basketball courts, racketball, and more!
We have all the grocery stores, restaurants, outdoor retailers, coffee shops, pet stores, and other shops you might need! A wide variety of restaurants offer a wide selection of international cuisine. We have all the shopping you need from large chain stores such as Target to smaller, locally owned businesses.
Even with all the big town ammenities, we keep the small town feel. You can get to know the people at the coffee shops or grocery stores you frequently visit. There are always a lot of free community events going on. You can make friends with those you meet in the community and become part of the Montrose community.
There is always something to do
Spring, summer, fall, winter, it doesn't matter. Here in Montrose, Colorado, we know how to roll with the seasons. Within a relatively small area, there is a large variety of different environments. We have the mountains, temperate rain forest, alpine meadows, high desert, canyons, red rock formations, aspen forests, pine forests, plateaus, plains, mesas, and more! All of these different areas have various weather patterns so you can always find someplace that is cooler in the summer or warmer in the winter. Or you can find the hot spots in the summer to cool off in a lake or the cold spots in winter to hit the ski slopes. There is definitely a reason that Montrose has the saying "stay here, play everywhere".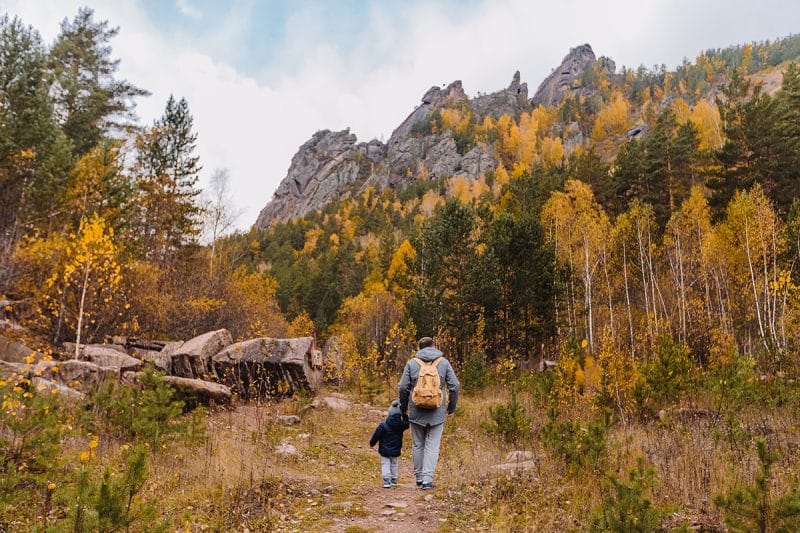 Adventure and outdoor activities for everyone during all seasons
No matter what level of adventure you feel comfortable with, there is something for everyone. And it doesn't matter what season it is either! If you want extreme adventure try climbing in Black Canyon of the Gunnison National Park or go up to Telluride to try out the Via Ferrata route. Maybe hiking is more your style. Within 20-30 minutes of Montrose, there are over 50 miles worth of trails. Many of these trails have multipurpose uses depending on the season. Summer through fall is hiking season. On the other hand, winter through early spring is time for fun in the snow! We have skiing, snowboarding, snowmobiling, snowshoeing, sledding, and hot springs for the winter months.
The OHV and Jeep trails around are popular as well. The Rimrocker Trail goes from Montrose, Colorado to Moab, Utah. Ouray is just a short drive away and offers access to the Alpine Loop trail system along with a bunch of other trails in the area. These backroads take you away from the towns and highways and allow you access into some pristine national forest and BLM land areas.
It's easy to get away
Whether you want to get away somewhere close by such as the West Elk or San Juan Mountains or the desert around Moab, Utah or someplace further away, there are lots of options. If you're moving to Montrose, mountain towns such as Telluride, Ouray, and Crested Butte offer a close place to get away. If you want to go further, our regional airport in Montrose offers many direct flights to major cities and airports around the country.
Take a day trip to Ouray and enjoy watching the ice climbers and then take the evening to soak in the hot springs. Crested Butte offers great access to the mountains for hiking or snowmobiling. The town has great shopping and lots of local restaurants to choose from. The ski resort in Telluride offers some of the best skiing in the world. Even though Telluride has gained a reputation for being high-end, they still hold onto their roots of a small mountain town. If you need a bigger city, Grand Junction isn't far and we have storage units in Grand Junction as well!
Ready to make the move to Montrose, Colorado? Let us help! You can rent one of our storage units of varying sizes or even rent a truck for the day to haul your stuff.