Moving doesn't always have to take a long time! And sometimes you are forced to pack and move quickly depending on the circumstances. Sometimes your lease is up and you need to find a new place to rent fast. With a little forethought and planning, you can move quickly. 
Organization is Key for Packing and Moving Quickly
One of the best things you can do to get started quickly with packing and moving to a new place is getting organized. If you have time, make a list of the basic overview of what all you need to pack and how you will pack it. If you will need help, be sure to line up friends and family ahead of time to help you out. Or if you will be using a moving company, do your research before you are ready to move, read the reviews, and get some different quotes.
It can also be a good idea to set up a "packing station". There you can have all the packing materials you need in one place instead of scattered throughout your home or apartment. Get all your boxes, padding and packing materials, along with bags ready. You can move this packing station from room to room as you work on packing up various areas of your house.
If you need extra space while you are moving and in-between your move, having a storage unit rental lined up is a great idea for storing items that you might not need right away. When you have a storage unit, you can pack away things you might not yet have a place for. Holiday decorations, guest bedrooms, and garages can all be packed away into a storage unit until you are ready to finish moving into your new place.
Pack Up One Area at a Time
Packing and moving can be an overwhelming task, especially when you are rushed and have to do it quickly. To stay organized and get packing done more quickly, pack up just one area at a time. For example, in your kitchen, don't just start packing up everything from your kitchen. Break it down into sections. Pack up just the countertops, then move to one cabinet at a time. Using this method, you can keep everything organized and it saves you time because you aren't all over the room packing things up.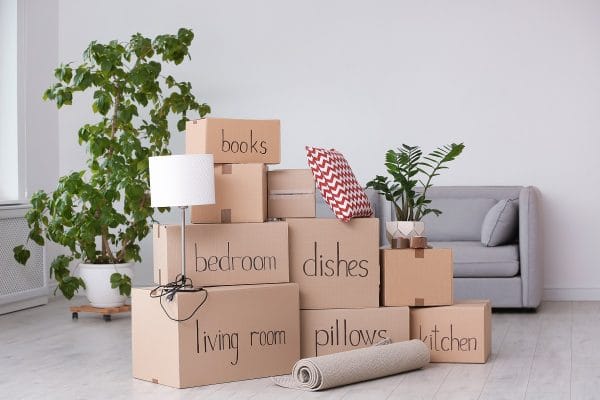 Get Creative With Your Packing
To pack things more quickly so you can get on your way, you have to get creative with your packing skills. Instead of unpacking drawers, dressers, and cabinets, you can pack up the whole thing! This works great for smaller dressers and storage cabinets where there is nothing fragile inside, such as clothes. Use a strap or rope to secure the drawers or doors closed and just pack up the whole thing! If there is extra space inside, put other items in there to fill up space. No need to waste time, unpacking things that are already packed.
If you have a bunch of hanging clothes, leave them all on their hangers. To pack up hanging clothes, use trash bags to bag them up. Don't fold or roll your clothes, just keep them flat. Then just lay the trash bags of clothes flat down in the moving truck or in your vehicle. There's no need to remove all your clothes from their hangers. This method can also keep your hanging clothes less wrinkled than folding them and packing them away.
If you have a bunch of suitcases, reusable grocery bags, and other items that can be used as storage, it's time to get creative with your packing! Use items such as these for creatively packing and storing your belongings. You shouldn't "pack air" when you move. And especially if you need to pack and move quickly, you want to make sure you take advantage of the space you have. The more compact you can make everything, the less need you'll have for multiple trips or multiple vehicles. This can help you move to your new place in a shorter amount of time.
Label Everything Very Clearly
To keep all of your belongings organized when moving, you need to very clearly label everything. It's also best that you label your boxes on at least 2 opposite sides so it is easier to see what is inside, no matter how they may be stacked. You don't just want to write something generic on the boxes like "bedroom". You could label the box with "guest bedroom" and then make sure you write out a list of at least some of the items inside. Sometimes you may pack a random item in a box that has extra room. If you do this, make sure you label that box with the extra things you put in there! Clearly labeling your boxes will also help you move into your new place faster as you'll be able to easily sort boxes to where they need to go.